Lake Erie Fishing Charters - Rates
Love to catch fish? We all do! It's far more economical to charter a Lake Erie Fishing Charter boat several times each year than it is to own, maintain, and outfit your own boat. Not to mention, you'll be fishing with the most up-to-date equipment, and an experienced, full-time Lake Erie Fishing Charters Licensed Guide to keep you where the fish are!
---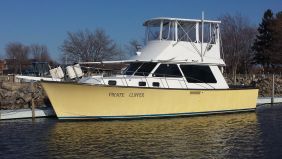 37' Tollycraft "Pirate Clipper"
Capt. Eric Litton

Why book a smaller boat when you can have the second largest private charter fishing boat on Lake Erie for such a small amount more?

Please view our "The Boats" page to see pictures and learn more about this incredible vessel. We have multiple luxury boats available to accomodate larger groups.

All prices listed are CASH prices. We DO accept all major credit cards, see details below.

Morning Trip - 8 hours or limit - $800
Afternoon trip - 4 hours or limit - $650

Island Pick-up $100 additional fuel charge.
Canadian trips $100 surcharge.

1st Mate works for tips! 20% is customary and highly appreciated!

---
Perch/Walleye Combo Trips
10 Hour Perch/Walleye Combo Trip
The ultimate day on the lake!
All bait and fishing gear included.

Add $180 to Full Day Rate.

---
Executive Package
Deli meat and cheese tray, fruit and veggie tray, breads, chips, snacks, and beverages provided. Additionally, your day's catch will be picked up at the boat, cleaned, bagged, and chilled at no additional cost.

This not a cheap, boxed lunch package!

Add $335

---
Lake Cruises
Put-In-Bay or Kelleys Island - $700
*includes dockage*
1st Mate works for tips!

---
Pay Your Deposit Online!
Click the button below, then change quantity to match the number of days times the number of boats you are booking.
For example:
One boat, one day booking = $200 deposit.
One boat, two day bookings = $400 deposit.
Two boat, three day bookings = $1200 deposit.


---
Booking - in 3 easy steps!
1. Call or email us with the date or dates you want to book.
2. We will confirm availability, or discuss alternate dates.
3. A $200 per boat, per day deposit is required to hold a booking. Pay securely online with the link just above, or mail check payable to Eric Litton to 659 Wood Run Dr., Marysville, OH 43040. Final balance due the day of the trip. We can accept cash or credit card. A 3.0% Convenience Fee will be added for processing Credit Card transactions. We CANNOT take a check the day of the trip.

Cancellations
Changes or cancellations made at least 30 prior to the scheduled date - we will transfer your deposit to new booking. Cancellations or changes with less than 30 day notice are subject to forteiture of deposit.
If we are forced to cancel a trip due to weather, alternate dates will be offered and your deposit will be applied to the new booking.
ALL weather cancellations are ENTIRELY at the discretion of the Captain. No deposit refunds.
Call TODAY to book the finest Lake Erie Charter Fishing experience available!
Capt. Eric Litton
614-679-2616