Walk-On Trips aboard the Pirate Clipper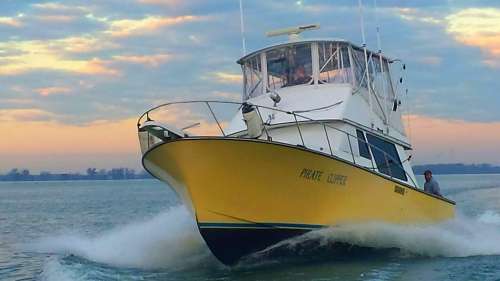 On certain occasions, we will offer walk-on trips at a 'per person' rate. We do this to allow people who do not necessarily have a large enough group to book a private charter. As with all of our trips, we provide all of the fishing gear and bait needed. All you need is a valid Ohio Fishing License.
...
Walk-On trips are subject to a specific set of rules. Available dates and times are listed in the "Pay Now" options. Please read below:


1. Trips are limited to SIX passengers.

2. Trips must be prepaid, and are NON-REFUNDABLE, NON-CHANGEABLE. You are purchasing a SPOT or SPOTS on a specific trip. We cannot transfer your purchase to a different trip. If we are forced to cancel a trip due to weather or other unforeseen circumstance, refunds WILL be issued.

3. We RESERVE the right to cancel a trip for any reason. If this happens, you will be notified immediately, and REFUNDS WILL BE ISSUED.

4. Departure times are listed with available trips. Please plan on arriving at the boat at least 15 minutes EARLY! NO REFUNDS WILL BE ISSUED FOR LATE ARRIVALS - NO EXCEPTIONS!

5. This vessel requires a First Mate. The Mate is onboard to assist the Captain in operation of the vessel, and to assist YOU while fishing, to ensure you have a safe and productive fishing trip aboard the vessel. First Mates work entirely for tips, 20% tip is customary and appreciated.


Book Your Walk-On Online!
1. Select your desired trip from the list below.

2. Press "Pay Now" button. You will have the option to change quantity if needed. If system returns "SOLD OUT", try reducing your quantity. You can call or text us to find out how many spots are available.

NOTE: If you'd like to use a Gift Certificate for a Walk-On Trip - please call me at 614-679-2616! Thank you!


---
Capt. Eric Litton
614-679-2616