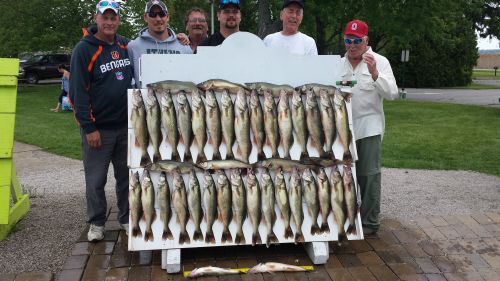 What to Bring
Being unprepared can make for a miserable day! Please review this list to help you plan accordingly.


Fishing License - see 'License' page for guidelines
Sunglasses
Sunscreen (NOT the spray can type)
Motion Sickness Suppressant
Food/Drinks
Rain Wear
Cooler to take fish home

---

What NOT to Bring I should list this info first...but anyway, you'd be surprised what some people want to carry with them!


Illegal substances - drugs - including marijuana! In accordance with US Coast Guard Zero Tolerance Policy on illegal substances, we operate a 100% DRUG FREE VESSEL. Don't bring it, and don't ask.
Hard liquor - unless you're a sipper... we don't need you trashed!
SPRAY Sunscreen - this stuff is just a disaster for the deck and our equipment.
Firearms - I'm a gun loving American, but we can't carry on the boat - and certainly not in Canada!
Bananas - superstition wins! Bananas = BAD JuJu.
Coolers that leak - just trying to protect my carpeting! Thank you!

---
PLEASE READ: This advice is taken from many years of watching people show up unprepared. Some have even opted to end a trip early because they were unprepared! Don't let this happen to you!

Don't wait until you feel sick to take Dramamine. If you don't know how you're going to feel, take Dramamine (as directed) a half hour before we depart. Some people take one the night before the trip, and again in the morning. Trust me - I've watched the toughest grown men turn into crying sissies because of seasickness.

Bring or wear appropriate clothing! At times, we can experience chilly early morning hours which turn into hot afternoons. Dress in layers, or bring lighter or heavier clothing. Nothing is worse than sitting inside the salon watching the others catch fish because you are cold!

Rain gear - We fish in the rain!!! We WON'T fish in high winds or lightning. Weather cancellations are entirely at the discretion of the Captain.

You'll need a cooler to take your catch home. If you choose, we can have your fish cleaned for you. You will pick up your fish cleaned, bagged, and chilled. You'll need a cooler large enough to hold all the bags of fillets and enough ice to get you home. We have had groups leaving with 60 pounds, or 80 pounds of fillets, sometimes more! Don't be another one to say "I had no idea we'd catch this many fish!"
Call TODAY to book the finest Lake Erie Fishing Charter experience available!
Capt. Eric Litton
614-679-2616